Politicians talk about a grand bargain in America. If you work hard, you can have a comfortable middle class job or better. Any career is possible regardless of one's ethnicity or socio-economic status at birth.
Unfortunately, the reality in America today is not even close to this ideal. A staggering disparity exists between college completion rates for students from wealthy and low-income families in the United States. According to a 2015 article in the Wall Street Journal, nationally only 9% of students from lowest quartile income families earn a college degree by the time they turn twenty-four. However, 77% of students from highest quartile income families earn a college degree by the time they turn twenty-four.1
College Completion Gap
In the 21st century a college education is critical. A report from the McCourt School of Public Policy at Georgetown forecasts that by 2018, 63% of all jobs will require at least some postsecondary education. The vast majority of jobs that pay enough to allow a middle-class lifestyle or better require a college degree. As the chart below illustrates, individuals with a college degree earn significantly more than those with a high school degree or less.
Median Earnings of Full-Time Workers by Education Level2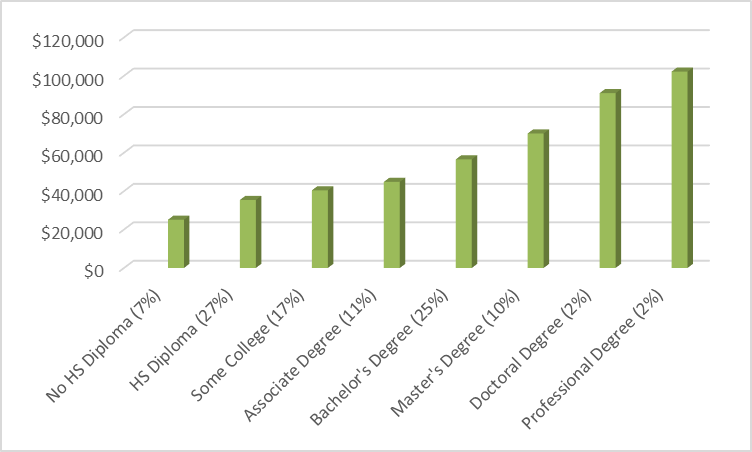 The traditional public school systems in most of America's urban cores have failed students for decades. Millions of students from low-income families have not had access to high-quality K-12 education. The result for many is a lack of available opportunities. There is no mystery as to why our inner cities are plagued by high unemployment, crime, and violence. If people are not educated, they do not have good opportunities. If they do not have good opportunities, they are much more likely to get involved in criminal activities and end up in the criminal justice system.
Education is a huge and important civil rights issue. The state of K-12 education in America's inner cities is not only a tremendous social injustice, but is in direct conflict with the American Dream ethos inspired by the Constitution. African-Americans are much more likely to live in a zip code that has failing public schools and thus have been disproportionately impacted by the failure of our nation's urban public school systems. To have a fair shot at the American Dream, all children must have the opportunity to have the preparation and skills to succeed in college.
One's destiny in America should not be largely determined by one's zip code and it does not need to be. In Kansas City where I grew up, the traditional public school district has been failing children for decades. Fortunately, in 1998, Missouri passed a charter school law which allowed others to operate public schools within the boundaries of the Kansas City Missouri School District ("KCMSD"). Charter public schools have collectively transformed the educational opportunities available for thousands of students in the KCMSD.
In 2016 charter public schools educated roughly 40% of the K – 12 public school students living within the boundaries of the KCMSD. This level of market share is in the top five in the nation behind New Orleans, Detroit, and Washington, DC. Charter public schools have created a competitive educational landscape which has created an incentive for the traditional school district to improve. While the traditional Kansas City Missouri School District is still far from high-quality, it has shown meaningful improvement in recent years actually achieving its highest rating from the state in three decades for the 2015 – 2016 school year.
Charter public schools were created in the early 1990's to improve our nation's public school systems. Charter schools are public schools and like traditional public schools, are funded by local, state and federal tax dollars based on student enrollment. They are free and do not have special entrance requirements. Charter schools are not religious and cannot discriminate against students on any basis. Just like traditional public schools, charter public schools are accountable for state and federal academic standards. As of 2016, there were more than 6,700 charter schools operating in 42 states and the District of Columbia educating nearly 3 million children.3
Today, K-12 education within the boundaries of the Kansas City Missouri School District is at an inflection point. There is even optimism among local education reform practitioners that a significant majority of the students in Kansas City, Missouri could be getting a high-quality education within a decade. Hopefully, this book will shed light on the progress that has taken place and potentially serve as a roadmap for others who have the desire and will to address failing inner-city school systems.
For the last decade as Chairman of University Academy (UA), a K-12 college-preparatory charter public school that serves 1000 students who reside in the boundaries of the KCMSD, I have seen that it is possible for low-income students to achieve at the highest levels. I have also witnessed how multiple charter public schools can collectively create a competitive educational landscape that benefits students and the community.
University Academy opened its doors in 2000 and is one of the largest charter public schools in Kansas City. By Missouri law, all students who attend charter public schools must live in the district and be selected by lottery. Over 95% of the student body at University Academy is African-American and roughly 75% qualify for free or reduced lunch.
The mission of University Academy is to prepare students to succeed in an institution of higher education and to become leaders in society. 53% of the school's alumni who have been out of high school for 6 years or longer have completed a 4-year bachelor's degree. This is more than 5x the national average for students from lowest quartile income families (9%).
In August 2015, Newsweek Magazine published their "America's top high schools" issue and ranked University Academy the 199th best high school in the country in the "beating the odds" category. Additionally, for the fifth year in a row, University Academy's High School was recognized for excellence by U.S. News & World Report.
For the 2015 – 2016 academic year, University Academy received 100% on its Annual Performance Report from the State of Missouri which equates to Accredited with Distinction (versus 70% for the KCMSD). University Academy's High School ranked #1 out of 397 public high schools based on state of Missouri test scores for the 2015 – 2016 academic year.4 Additionally, in 2016, University Academy's High School was one of fifty-four schools in the country to be named a National Title I Distinguished School. This honor, given by the National Title I Association, recognizes exceptional student performance.
In 2017 University Academy was nominated as a National Blue Ribbon School. This award, given by the U.S. Department of Education, is considered the highest honor an American K-12 school can receive. Less than ½ of 1% of schools in the nation are nominated for the award in any given year.
How is University Academy getting vastly different results with the same students? I believe our success has largely been driven by:
A very clear mission and vision
A culture of high expectations and accountability
An incredibly dedicated and talented faculty and staff
A rigorous college preparatory academic program
Supplemental high value educational opportunities for K-12 students including a very robust summer study abroad program for high school students (71% of our class of 2017 will have participated in study abroad while in high school).
Working with Alumni after they graduate through an Alumni Success Program
Charter public schools are governed by boards of directors. In this book, I explore the role the board plays in creating a high performing school as well as discuss some of the innovative programs we have created to support UA's mission. The practices discussed in this book can easily be copied and by replicating programs and practices that are working, we can improve education in America. My hope is that the information in this book will be helpful to other schools, nonprofits, practitioners, educators, and policy makers.
Notes
---
Get the Book